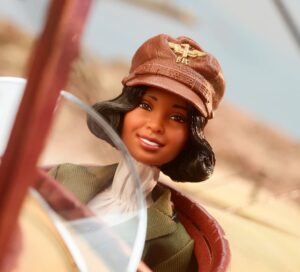 American Airlines and Barbie® partnered together to honor the legacy of Bessie Coleman, the first Black and Native American woman to earn a pilot's license in 1921. To celebrate her birthday, customers flying Flight AA771 from Dallas-Fort Worth to New York received the newly released Barbie® Inspiring Women™ Series Bessie Coleman doll.
American continued to inspire the next generation of aviators by hosting a special program for aviation students at the Ronald E. McNair public school 5 in Brooklyn, New York — a place designed to inspire youth to follow and build upon Bessie Coleman's rich legacy.
ABOUT BESSIE COLEMAN
From her earliest days, Bessie Coleman had the ambition to soar above the conditions of segregated small-town Texas at the turn of the 20th century.
Fresh off the backbreaking hours in the cotton fields, she would discreetly slip her foot on the scale beneath the day's haul to squeeze a few more pennies out of the foreman.
At 18, she left for the Colored Agricultural and Normal University in Langston, Oklahoma, despite having only enough money to last one semester.
At 23, she joined two of her older brothers in the big city of Chicago, where she trained as a manicurist and befriended the power players of the South Side's thriving African American community.
But it wasn't until she endured the teasing of one combat-veteran brother, who ribbed her about the superiority of French women who knew how to fly planes, that Coleman found a calling worthy of her sky-high ambition.
Coleman journeyed to France for flight training
As detailed in Queen Bess: Daredevil Aviator, the would-be pilot reached a dead end when it came to finding someone willing to train an African American woman. Undeterred, she took French lessons to apply to one of the country's progressive flight programs, and set sail for Europe in November 1920.
At the Caudron brothers' aviation school in Le Crotoy, Coleman trained on a rickety biplane that required careful inspection before each flight. Occasionally unable to understand her instructor, she bridged the communication gap by feeling the movements of steering system that connected the front and back cockpits.
After becoming the first Black woman to receive a pilot's license from the Fédération Aéronautique Internationale, Coleman made a triumphant return to the States in September 1921. However, there were few professional opportunities available for pilots, save for those who engaged in stunt flying, so she soon returned to Europe for training in loop-the-loops, barrel rolls and other aerial tricks.
READ MORE: Bessie Coleman and 9 Other Black Pioneers in Aviation
She talked the talk to build up her reputation
Bessie performed her first air show in Garden City, New York, in September 1922, its success leading to engagements in Memphis and Chicago the following month.